Baking bread is a universe inside the world of cooking but that doesn't mean you can't make some bread at home.
Baking in general is a fucking science. So, if you want to end up with a good bread do EXACTLY what it says in this recipe. Tiny changes if you don't know what you're doing can end up with an inedible mix of water and flour or a brick . Having warned you, let's see how to make some bread!
For this bread we'll do a 65% hydration. You don't need to know what it means but it will make kneading easy.
Part 1 – Making the dough
Mix 325 ml of water at room temperature with 12 g of dry yeast* and stir a little bit to activate the yeast.
Grab a bowl and add 500 g of strong white flour*, 1 g of salt and the yeasted water in it.
Mix everything together until you get a sticky dough and then pour it into a surface** where you can knead.
*How many cups are this? I don't fucking care and you shouldn't either. Every flour is different and since we've agreed that this is a SCIENCE, we need precise measures. Use a scale or calculate at your own risk.
**Don't put fucking flour in that surface yet or you'll alter the recipe. It'll be sticky and you have to learn how to deal with it.
Part 2 – Kneading
Knead the dough for 8 to 12 minutes. If you don't know how to knead just push it forward and fold it back again. To clean up the table use a scraper.
Make a dough ball to define a top side (tense, floured) and a bottom side (sticky, where the folds meet). Usually the ball will be upside down and you'll need to flip it for the next step.
Part 3 – Proofing
Take the ball, put it top side up in a bowl, sprinkle some flour on the top side and cover the bowl with anything you want.
Let it rest at room temperature for 1 to 1.5 hours until it has doubled in size.
The fucking most important thing: until it has risen you can't continue. If for some reason it doesn't rise, you won't be able to make bread.
Part 4 – Shaping
Take the dough out of the bowl upside down to a floured surface (yes, at this point is ok to let flower touch the top side).
Press the dough gently to release some air and you'll end up with a disk-shaped dough.
Now fold it to your preferred shape*, dust it with flour and place it in the tray or tin where you'll bake it.
Let it rest for about 1 hour.
*Make a ball again, roll it into a long shape, put it into a tin loaf or make an abstract shape. It's up to you.
Part 5 – Baking
Preheat the oven at 200 ºC / 390 ºF.
Put the bread in the oven and let it cook for 30 to 40 minutes (or less if you make a thin shape). You'll know it's ready when the outside is golden brown and sounds hollow when you hit it.
Not sure how that sounds? Train your ears here 👂
The last important thing: Once is done LET IT FUCKING COOL DOWN. I know… you've been waiting a lot and it smells incredibly well, but the bread isn't finished yet and you need to let it cool down before cutting or eating it.
---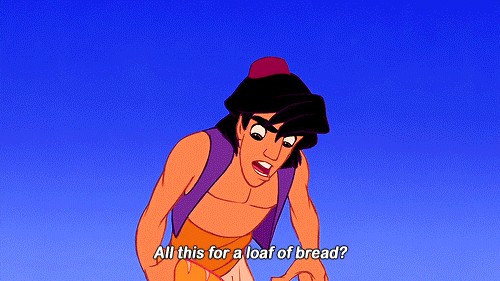 Have you followed all the steps or panicked after reading the recipe?
If you've done it, great! Enjoy your fucking masterpiece! It's good isn't it?
If not, at least you've learned to value the effort that the people from your local bakery are making every single day. 👩‍🍳🧑‍🍳👨‍🍳
Finally, if you've just fallen in love with your bread and want to learn more or if you want to understand why the fuck something has gone wrong, I recommend you to take a look at Bake with Jack's YouTube channel. He's the guy demonstrating the kneading technique and he has videos for every fucking possible thing you might need to worry about when making bread.
That's more than enough, see you!
The Fucking Chef
(with the hands of the amazing Jack)